We understand that stairs can be tricky and every project has its own challenges. But at Miami Stainless we have taken the guess work out of drilling holes in stair posts, with our quality ProRail post range.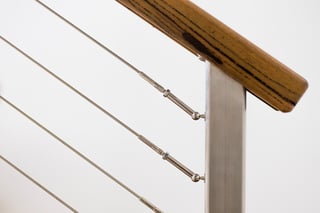 Custom Staircase
Miami Stainless' signature post range, ProRail come complete with holes pre-drilled to suit your specifications. The holes are drilled to suit the wire system you have chosen. You simply supply us the angle of your staircase, number of posts and heights and we drill holes to suit. Your posts arrive on site ready to install.
Nutserts in End Posts
To make your life even easier we can also install Nutserts into your posts, which are needed for some balustrade systems such as the Nutsert Swage Stud system and Jaw Swage Bottlescrew Systems.
Intermediate Posts
For stair projects using round and square intermediate posts we can also drill larger hole sizes to suit grommets.
Another great benefit of using ProRail pre-drilled posts is that you can get an instant online quotation by using our Post Builder Calculator on our website. It's a quick and simple system and you can add all your required posts and fittings to your shopping basket with one click.

If you are after a more personal touch, call a member of our friendly sales team on 1800 022 122, who will provide you with all the advice and pricings you need to get the job done.