---
Regular maintenance of your stainless steel products is the best way to ensure its longevity. Although in theory Stainless Steel doesn't rust, it can be susceptible to tea staining, chemical stains or rust if not treated correctly.
---
Tea Staining
Tea staining of steel occurs where water with a significant chloride content is in regular contact with the metal surface. This is a common occurrence along the coastal fringes of Australia, and in the interior where high groundwater salinity exists and is used on or around metal surfaces.
Although an unsightly problem, the corrosion usually does not penetrate into the steel, and does not affect the structural integrity, or the longevity of the material.
Rust
Miami Stainless only supplies high quality stainless which, in normal conditions, should not rust. Rust could occur in extreme marine environments, exposure to very high or low temperatures or when the product has been damaged. The best prevention of rust is regular maintenance and preventing damage or exposure to harmful chemicals and salts.
Cleaning Stainless Steel
Prevent water being trapped or pooled on steel products. Allow free drainage and where possible allow exposure to rain water to wash the products regularly
Remove or wash off corrosive materials such as salt. This can be done by hosing down outside products or wiping inside products with a damp cloth.

Use the smoother Mirror Polish products in outdoor environment.

The rougher Satin Finish has fine minute scratches where salt or dirt particles could potentially lay and cause damage.

Do not use harsh chemicals on steel products.

Only use chemicals specifically designed for use on stainless steel such as Peek Polish.

Avoid using harsh cleaning clothes or steel wool.

Use smooth soft cleaning clothes only.
---
But remember..... not all stainless steel is created equally. If you buy poor quality you have a high chance that the product will rust, no matter how well you maintain it. See below an image of a poor quality (NOT OUR PRODUCT) that began rusting within 6 weeks of installation.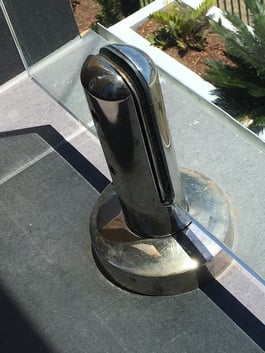 Maintenance and cleaning methods that you use for your specific steel wire product will be determined by the application that it is being used in. For instance, steel wire used in a balustrade will require slightly difference maintenance to a steel wire used in marine applications. If you aren't sure about the ongoing maintenance of your steel wire product, contact one of our friendly staff for advice.

---