In an ever-diverse world, architects have been looking for that element that finishes a design in a way that creates differentiation as well as dimension. Advances in stainless steel composition and stainless-steel products for construction have also provided for new ideas and innovation.
Miami Stainless have been at the forefront of this improvement nationally in Australia. In particular is the proven capacity of stainless to enhance modern building settings – both commercial and residential. And it all comes down to that subtle touch of glamour.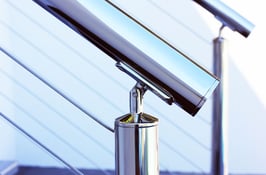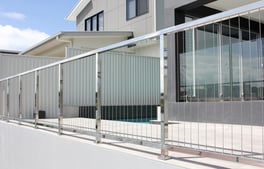 Whereas the more traditional mindset around stainless steel as been predisposed to functioning surfaces like kitchens, today the revelation has been about architectural innovations in stair wells deck areas, mezzanines, feature walls, greenwalls, and even wall art.
Why? It's the combination of lines and shines. Glamour designs that are pleasing to the eye.
From a 'lines' perspective it's a proven fact that most people are attracted to synchronicity as much as chaos. The use of stainless provides for the uniformity and line repetition in many settings as well as the angles and corners that create dimension. When inserted creatively in a building design the outcome can be quite spectacular.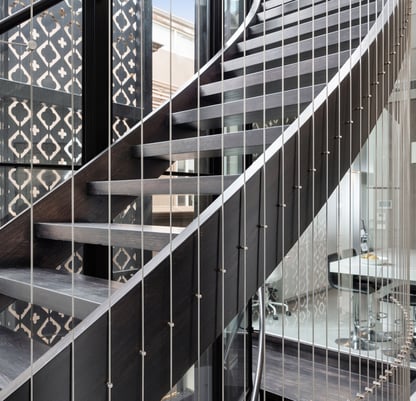 4 story vertical wire balustrade
And then there is the shines. Polished stainless inserted well provides the light changes often associated with things shiny. In contrast to matt paint work and timbers constructs this can be especially effective.
And of course, it will always add the perspective of quality and fiscal value. The addition of stainless steel will always be seen as upmarket fitting or installation in the same was as something like gold or silver. That smooth stainless gloss is enough to add glamour to any setting.
Here are a number of ways to add glamour to your design:
Vertical establishments in walls and stairwells
Balustrade fences for stairs and walkways
Overhead latices or lines for ceiling or greenery
Feature elements that deliver pseudo structural functions
Visual enhancements in partitions and or wall features
Trendy blends in decking and deck fencing
Pool surrounds and outdoor weather resistant settings
Greenwall sections for landscape sections and indoor/outdoor flow
And much more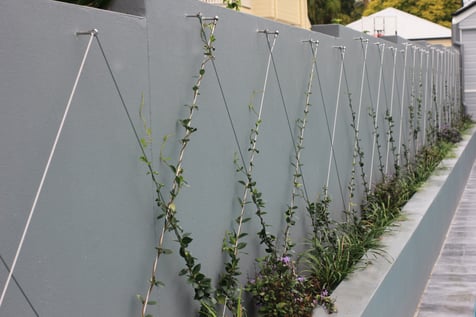 The growth of the use of stainless steel is well supported by the quality of product now provide by Maim Stainless and the variation of options is limitless.
When looking for inspiration in design keep stainless steel as a key option for a very robust and credible glamour effect.
Our helpful team are available to help you choose the right products to make your next project exude glamour, call 1800 022 122.