It only makes sense that when it came time for Senior Designer Robert Gross from award-winning design firm Lee H. Skolnick Architecture + Design Partnership to build a home for his parents he chose New York bespoke stair designer & builder Lunna Designs.
GRAND DESIGN & HIGH EXPECTATIONS
Lee H. Skolnick Architecture + Design Partnership, specialises in custom, high-end residential design, and as such Robert is used to a pretty high level of customisation, specifications, and quality fabrication and installation work on his projects. Robert fully custom designed the rail system himself, which consisted of stainless steel wire cable, with matte black posts and finished with rift cut white oak handrail.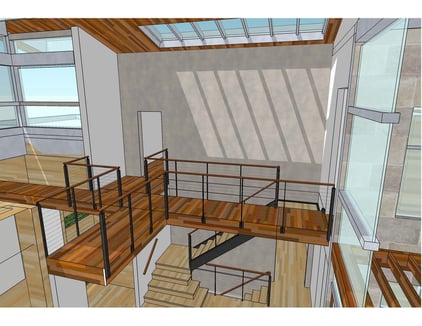 THE CRAFTMANSHIP
Lunna Designs' owner Frank Miano met with Robert onsite several times. With meticulous attention to detail Frank, site foreman Ariel Argueta and the Lunna design team produced the shop drawings, sourced the quality products and used their technical expertise to bring this project to life.
After a couple of small design revisions between the parties the project started to bloom, Frank explains, "We fabricated the steel posts and wood handrail locally. However, Robert had expressed that he preferred as little visible hardware on the wire systems as possible. We found that a number of companies in the US had hardware suitable for the project however they were bulky in their design. I couldn't find what I was looking for locally, so that is when I started looking overseas and discovered Australian owned hardware company Miami Stainless's range of streamline fittings."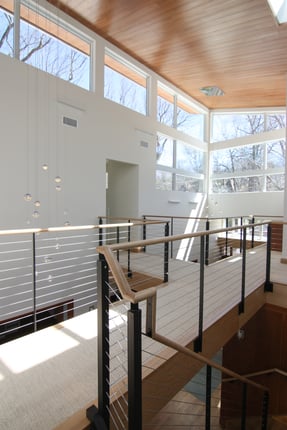 Frank explained to the team at Miami Stainless the need for the system to be as streamline & invisible as possible. Miami Stainless created a custom balustrade system to achieve the most streamline appearance possible. For the balustrade throughout the home Lunna Designs used the Nutsert Swage Stud system on one end of each system and the ProRig Original Design Flip Toggle System on the other. The Flip Toggle system allows the wire to be inserted and fixed to the metal posts with no adjustment hardware visible on the outside. On the staircases, the Nutsert Swage Stud was used with swivel connectors allowing the wires to be installed at any angle required.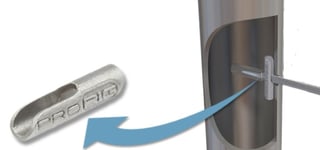 ProRig Flip Toggle
VISION TO REALITY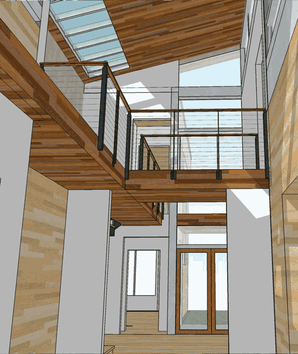 The result was an exceptional staircase, and balustrade design and construct. Lunna Designs succeeded in exceeding Roberts expectations in delivering an amazing job for this parents home, expressing to Frank "thank you again for all of the sophisticated work that you did in engineering, detailing, and fabricating the stair and bridge railings for the house that I designed for my parents."
Robert also praised the quality of the Miami Stainless products, stating "your wire products, are crisp, clean and have held up exceptionally well" and added that they "are getting a lot of positive comments about the lightness and sleekness of the railing system."
Miami Stainless would like to thank both Frank Miano from Lunna Designs & Robert Gross from Lee H. Skolnick Architects for their contribution to this article and sharing with us their experiences with our products.
Project Location
New Jersey, NY, USA
Staircase & Balustrade Project Budget
$24,000 USD
Architect
Robert Gross AIA | LEED AP
Staircase Builder
Lunna Designs