Home designs have evolved dramatically over the past couple of decades, usually incorporating the best of old designs and new innovative concepts. The old Queenslander homes design generally share a series of features that have become iconic, and have been widely employed by interior designers and architects in many different settings.
Modern influences have dramatically changed the authentic home design of the conventional Queensland home. Today we are going to look at a new home build by Elysium Designed, built in the residential Brisbane suburb of Tarragindi. Here are some of the unique features this mordern home as inherited from the original Queenslander design.
Light and Open Plan
Queenlander homes are renounded for their high ceilings. In this new home the designers have made great use of the natural light and kept the high ceiling design. Many of the new houses that are being constructed in Queensland feature this very light and airy home design with large windows and doors. The open plan make the best use of natural light and provides plenty of ventilation outlets throughout the house which keeps the home cool in those warmer months.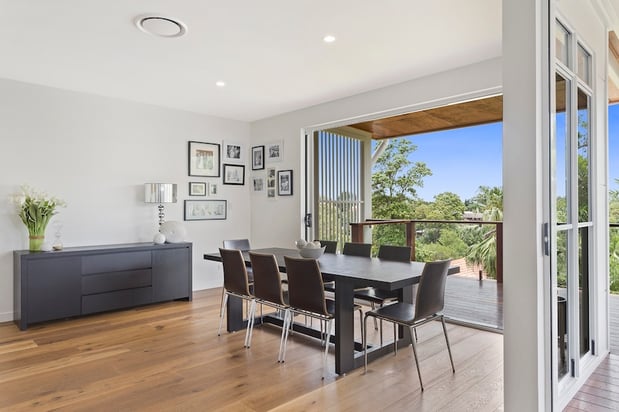 Glass Balconies
Another very common feature this home has in common with other modern Queensland homes is the glass balconies to capture views from afar. The glass balustrade has become a very popular feature in many houses throughout Queensland. While glass is varstly different to older designs, it stays true to the original heritage of balconies that were found in older Queensland houses, which were elaborate and a major design feature of the home. Since the whole house is built on an elevated platform, the glass balcony is able to capture views from a very long distance.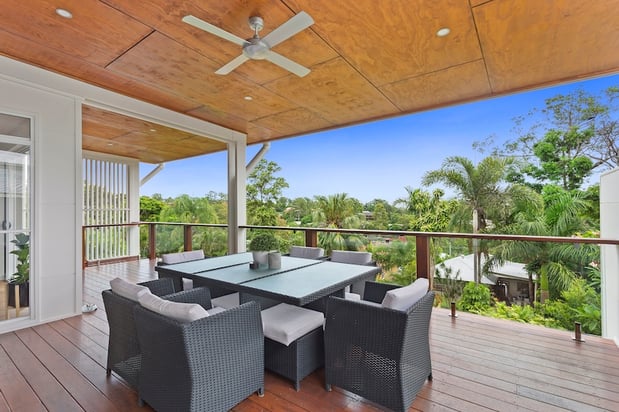 Indoor/Outdoor Living
Unlike old Queenlander designs this modern house has incorprated a seamless transition between indoor and outdoor living. This house features a beautiful deck, along with sliding glass doors that offer lots of natural light and a clear view of the outdoors.
Internal Flooring
Staying true to the roots of original Queensland houses which feature wooden flooring, the internal flooring of this house is made from bamboo. It's a strong and resilient wood that looks great.
This home also features some added mordern extras you probably won't see in traditional Queensland homes, such as floor to ceiling tiles, separate butlers' pantries and stone benches.
So although aesthetically different from traditional designs, this modern Queensland home
has kept all the advantages of the older design but with a very unique and stylish new twist.