Wire Rope consists of multiple strands of wire, twisted together, sometimes compressed, to form a flexible mechanism for supporting, rigging, lifting or hoisting.
Wire rope is available in various types and constructions, each having specific uses. Different configurations of the wire and construction will provide different benefits for the specific lifting application, including:
Strength
Flexibility
Abrasion resistance
Crushing resistance
Fatigue resistance
Corrosion resistance
Rotation resistance
Hence it is important to select the wire for the intended applications and the necessary to see what properties are required for the rope to be used correctly. Properties such as breaking strength, flexibility, resistance to bending fatigue, anti-friction, resistance to deformation, non-rotation and anti-corrosion.
Our aim is to provide you with the knowledge and understanding of the components so that you select the correct wire rope for your chosen application.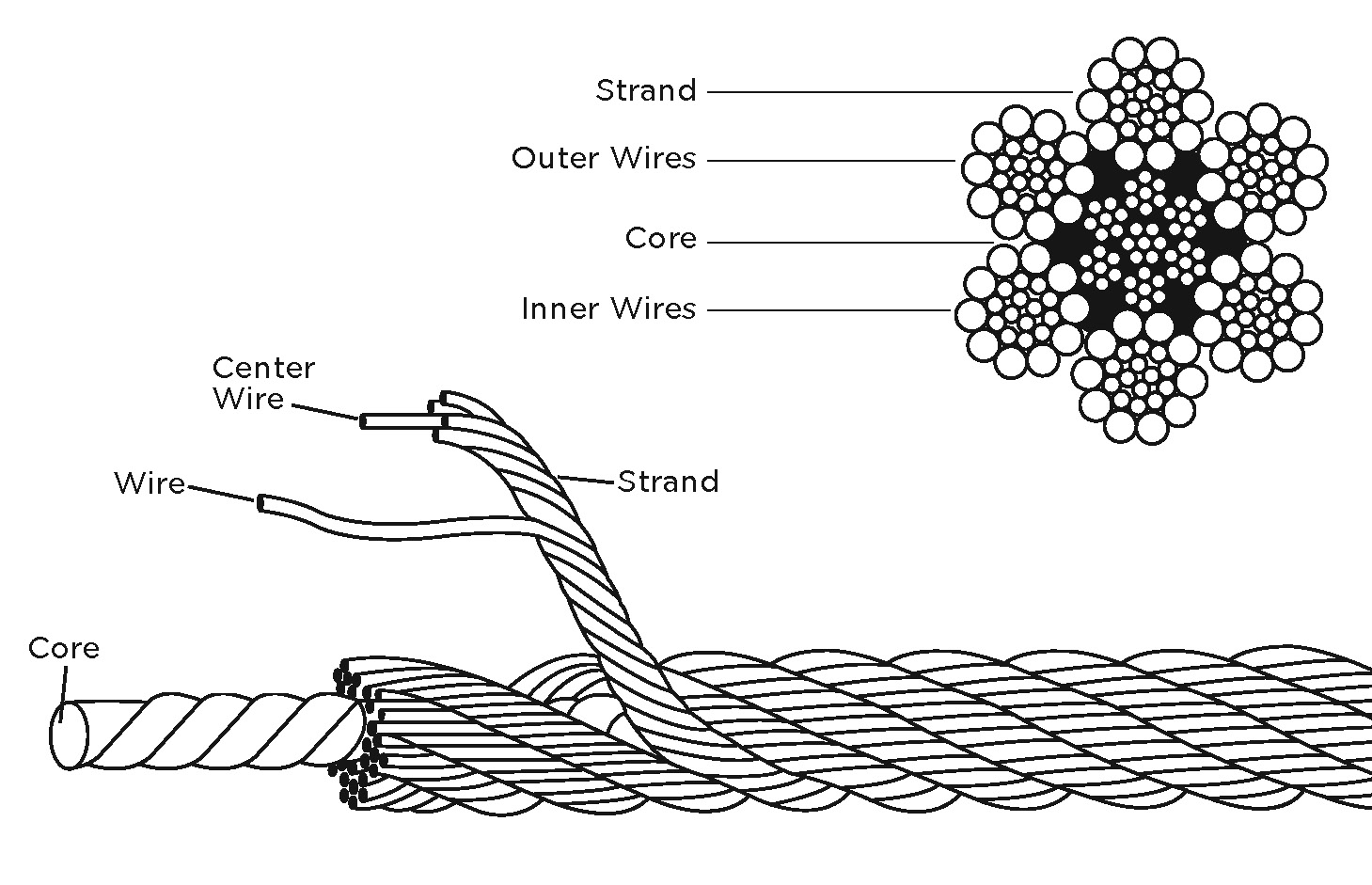 Wire Rope Construction
Wire
Wires are the basic building blocks of a wire rope. They lay around a "centre" in a specified pattern in one or more layers to form a strand.
Strands
The strands are spiral laid together around a centre, typically some type of core, to form a wire rope. Properties like fatigue resistance and resistance to abrasion are directly affected by the design of strands.
| | |
| --- | --- |
| 1 x 19 Standard Wire Construction | |
| 7 x 7 Standard Wire Construction | |
| 7 x 19 Standard Wire Construction | |
| 1 x 7 Compacted Wire Construction | |
| 1 x 19 Compacted Wire Construction | |
Wire Rope Strength
A rope that has strands made up of a few large wires will be more abrasion resistant and less fatigue resistant than a rope of the same size made up of strands with many smaller wires. Compacted wires are rigid non flexible wires with high strength
Wire Rope Flexibility
Like the 7x7, it has a high cycle life but a lower breaking strength.
7x7 cable is known for its flexibility and high cycle life. 7x19: In a 7x19 cable, six 1x19 strands are wrapped around a 1x19 centre.