The world is realising how important greenery is in the modern developments and building constructs. It's naturally being driven by many factors including the need for better climate, more aesthetic settings for humans to work and live, and fundamentally as a type of addition to visual creativity to counteract the stiffness of straight blank walls.
In fact, it has become almost a must-have whether it be for support ing local body requirements for meeting better environment regulations, or for simply competing for the most creative incorporation into any building or dwelling design. As such the ability to create massive and interesting features using plant walls and climbing arrangements has offered a very useful blank canvas for architects, builders, and landscapers.
These are commonly known as green walls or living walls.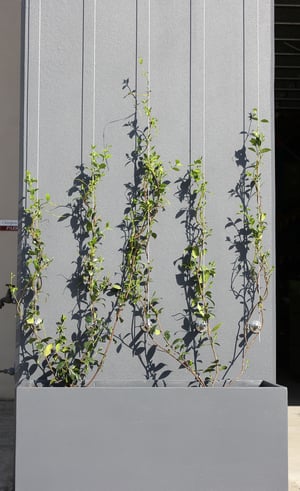 Going hand in hand with green walls is the very durable, and visually acceptable stainless steel green wall arrangements. These include multiple combinations of wire ropes, connectors, tensioners, and wall spigots or wall attaching items such as screw eye and eyebolts. These can be set up either to line wall or create a wall.
The ability to use stainless steel, often associated with quality household fittings, allows the wall creator to add different variations using lines, connections, patterns, and add them to arrangements that draw on the unique versatility and beauty of different plants, colours, textures and foliage. Naturally the plant options are boundless, and this offers up incredible options for creating bespoke creations for any application whatsoever, both interior and exterior. And this is where it gets exciting.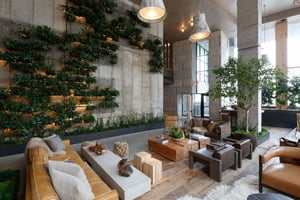 This has been adopted so well in fact that there are now whole walls of buildings covered in very well crafted arrangements that add beauty and dimension to the building, support the control of light and sun exposure to the interiors and enhance the objective of being environment friendly.
And they look spectacular to boot.
Additionally, green walls are now appearing in very large arrangements in hotel foyers, spacious commercial building landscapes, airport waiting lounges, and transport terminals. The beauty is you can also set up living walls in your home as well. And using stainless steel it's very simple to achieve some masterful displays both inside and out.
We offer no obligation green wall quotations!! Click the link below to complete your project details.
Whereas the options not so long ago were dreary and often using low quality galvanised products the stainless industry has composed amazing groups of products specifically designed for this change, allowing for arrangements to run vertical and horizontal, as well as visually pleasing settings that include lines, diamonds, squares, and even abstract shapes for a varied look.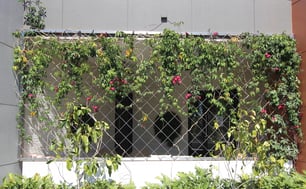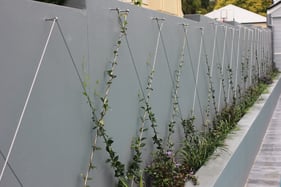 These can all be easily installed with minimal structural requirements. Meaning that its possible to do it your self or utilising the local handy-person.
The best place to find out more is Miami Stainless, the one company that has the greatest range and knowledge on this work in Australia. Contacting a reputable company capable of supplying all your needs provides for informed discussions that answer all your question.