The Greenline Post Green Wall System- Miami Stainless
Miami Stainless Greenline Post green wall system is a stylist and strong system for creating a multitude of vertical green wall designs. This green wall system is simple to install, suitable for the DIY installer or commercial projects. All Miami Stainless green wall systems are made of the highest quality stainless steel that makes it long lasting and strong finish to hold up the toughest Australian weather conditions. Leading to easily being one of our most popular product range.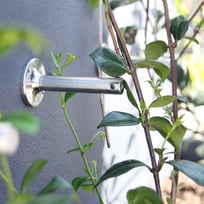 When purchasing Miami Stainless Greenline Post Kits these items will be included:


Related products

This installation into brick or timber
Step 1: Mark out the design for the green wall, indicating where each post will be installed.
Step 2 - For brick: Drill a 10mm hole in each market out location. Push a mungo plug into each hole. Screw a dual threaded coach screw into each mungo plug leaving only the fine thread exposed.
Step 2 - For timber: Drill a 6mm pilot hole (6.5mm for hardwood) in each marked location. Screw a dual threaded coach screw into each hole leaving only the fine thread exposed.
Step 3: Wind the Greenline Post on the exposed thread until it is as tight as it will go, have the hole lined up with the desired direction for your wire design making sure all top and bottom holes are lined up in the intended direction. Using the GLS-01 tightening tool, place the two prods line them up with the two holes on the base of the Greenline Post and tighten clockwise into the wall while holding the tea of the Greenline Post so it doesn't shift from desired direction. Note, you may need to readjust this after the wires installed if it's not quite straight.
Step 4: Once all posts are installed, pass one end of the wire through the outer Greenline Post leaving 15mm of wire and secure by tightening the grub screw on the stem.
Step 5: Feed the other end of the wire through any intermediate posts pulling tight and tightening grub screws as you go. On the final Greenline Post pull wire tight and tighten grub screw then trim excess wire to leave 15mm remaining.
Step 6: Further tensioning of the wire can be done once all wired are installed by loosening grub screws and pulling wire tight then retightening grub screw.
Step 7: For sections that require Net Clips, install at wire intersections after all Greenline Post and wires have been installed using a 5mm Allen key to tighten onto wire.
Helpful tips to make you installation process easier:
The most frequently asked questions
Can I install this method myself?
-Yes, even someone with no experience can easily install all our Greenline posts.
Do I need any special tools?
-You will need a couple of tools to complete the installation. Wire rope cutters to cut the wire to length, Tightening spanner to tighten the Greenline Posts to the coach screw and an 3mm Allen key to tighten the wires into place. Depending on the surface you are fixing too, you maybe also require a drill.
What size and type of stainless steel wire do I use?
-For most criss-cross and horizontal green wall designs we recommend 3.2 1x19 stainless wire rope. This wire is the most functional for stainless steel wire balustrade systems due to its bright surface finish, attractive appearance, durability, strength and low stretch. For straight vertical green wall projects we recommend 3.2 7x7 stainless steel wire rope. This wire is more corse and allows the plant to hold better.
What surfaces Can I fix Greenline Post to?
-You can fix Green line posts t various surfaces including wood, brick, cement.
What size hole should I drill for the Greenline posts fixings?
-On concrete you will need to drill 10mm holes ad on timber 6mm holes. If fixing to brick or cement we also recommend using 10mm Mungo Plugs.