The Standard DIY System suits straight and angled sections using metal posts and is a true do-it-yourself kit supplied with stainless steel fittings and wire rope installations on-site. Although this system has a much more involved and time consuming installation process, it is ideal for those on a strict budget. Kit form balustrade systems are generally shipped same day while factory swaged wire balustrade systems within three working days meaning you can measure one weekend and install the next! Miami Stainless Wire Balustrade Systems are unique, functional, easy to install and provide a stylish and contemporary finish to any project.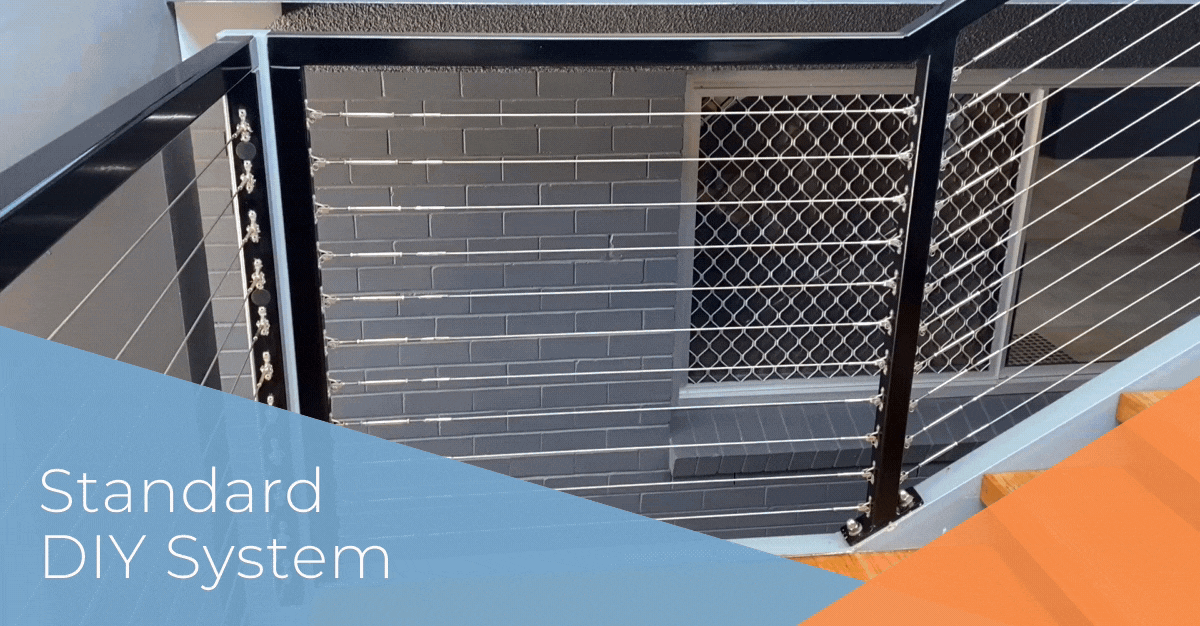 Step 1: Mark and drill all 4mm holes at the required spacing.
Step 2: Slide one end of your wire through a swage sleeve and guide it around your thimble. Complete the loop by inserting the end of the wire back through the swage sleeve, leaving 2mm of protruding wire. Swage the swage sleeve two times spaced slightly apart using the HS-14CR tool on setting 3.
Step 3: Insert a saddle through your loop and mount to your end post sing the rivets provided. A pop rivet tool is required to insert rivets. With the saddle and wire fixed to your end post, pull the wire straight to the inside face of the opposite end post and cut the wire 100mm shorter. Pass the wire through your pre-drilled intermediate posts and create a loop as per step 2.
Step 4: Attach a saddle to the opposite end post using pop rivets. Remove the pins from both ends of your bottlescrew by unattaching both rings. Attach one end of the bottlescrew to the loop in your wire and the opposite end to the mounted saddle, reinsert pins and rings. Adjust tension on the wire by screwing or unscrewing the middle section of the bottlescrew using a ProRig Multi Tool.
Step 5: Lock hex nuts against the body of the rigging screw to lock the system into place once correct tension is achieved. For accurate and consistent tension you will require a tension gauge, however you can measure the tension by a deflection test.



FAG
Can I install this method myself?
-Yes, even someone with no experience can easily install all our wire balustrade systems.
Do I need any special tools?
-Other than common handyman tools such as an electric drill with 4mm drill bit, you will need a hand swaging tool and a set of wire rope cutters. You can purchase an optional ProRig Multi Tool for easier installation.
What size and type of stainless steel wire do I use?
-This method is almost always used with 3mm 7x7 stainless steel wire rope. This wire is the most functional for stainless steel wire balustrade systems due to its bight surface finish, attractive appearance, durability, strength and low stretch.
What spacings do I need between my wires?
-When using a 3mm 7x7 stainless steel wire, you will usually need 80mm spacing (usually 11 runs) between your wires when using a standard one (1) metre high handrail. Visit www.miamistainless.com.au for more information on building regulations and requirements.
Can I use this balustrade system on a stair or angled section?
-Yes, the Standard DIY System suits stair and angled sections.
When using this system for metal posts, what size hole should I drill for my threaded inserts?
-You will require a 4mm hole to suit the pop rivets.
What size hole should I drill through my intermediate posts?
-A 4mm hole through your intermediate posts will allow the stainless steel wire rope to pass through.
What is the maximum length run I can do?
-The Standard DIY System can easily span up to 10 meters. Longer runs up to 16 meters can be achieved when using a tensioner at each end. Please contract Miami Stainless for further information.
Can I take my balustrade wire around corners?
-It is not possible with this system to take the balustrade wire around corners.