In 2017 the iconic Oasis Shopping Centre in Broadbeach, Queensland undertook an impressive $25 million overhaul. This redevelopment, overseen by property managers Cerno Management included an upgrade to the fresh food areas inside the complex and a complete overhaul and redevelopment of the restaurant precinct facing into the Broadbeach mall.
Gold Coast based architectural firm Buchan Group designed the upgrade, working closely with council to fit their masterplan for Broadbeach.
OUTDOOR RESTAURANT AREA
The third stage of the project, the redevelopment of the restaurant precinct including indoor and outdoor renovations. Buchan Group's aim was to re-invigorate the dining precinct facing the mall that had become worn and tired over many years. The outdoor area included a modern take on the traditional vegetation of this type of area., where Miami Stainless green wall systems were incorporated in a unique and functional capacity. These green areas included movable planter boxes connected to vertical green wall wire systems, that reach up to overhead horizontal wires for the plant systems to grow along.
FLEXIBILITY IN DESIGN
We spoke to Buchan Group to get an understanding of how and why they chose this type of system. Buchan Group advised that their brief was to re-invigorate the dining precinct facing the mall that had become very worn and tired over many years. The area faces North so it allows sun penetration in winter with reasonable protection from summer storms & the prevailing South-East winds.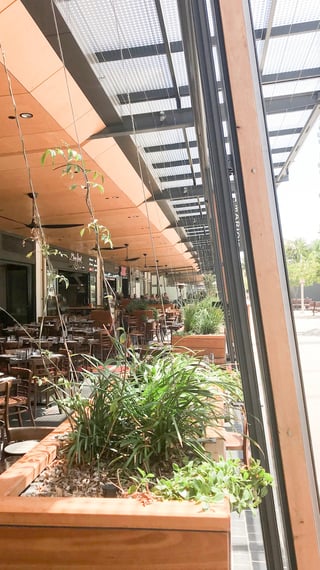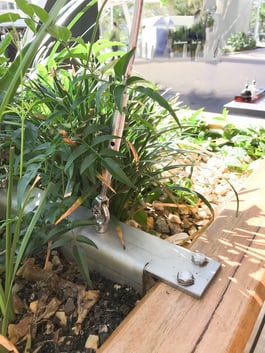 The vertical green wall gardens were included to increase the shade to the seated areas but also the inclusion of planting in the indoor/outdoor dining areas increases the sense of calm and coolness of the environment.
They also confirmed that the movable planter boxes, with vertical wires connected to the overhead horizontal wires, adjustable because of a swaged/loop eye, were designed this way to allow greater flexibility in relation to tenancy changes over time.
Hutchinson Builders completed this area and contracted local green wall wire installer Keen As to complete the job.
Full Project Budget
$25 million
Architects
Buchan Group
Property Owner
Abacus Property Group
Project Managers
Cerno Management
Builder
Installer
Keen As Building Services